Individual and shared successes help define who we are and who we become. We are passionate about celebrating and recognizing the uniqueness of you and your identity– Your Own Personal Brand.
Create a memorable experience for the people you wish to honor and recognize for being their BEST!
Our professionals are committed to provide YOU with the highest level of personalized service. Go ahead, give us a call!
Featured Item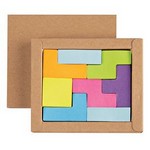 Jigsaw Sticky Flags
Add Fun To Your Desk Top! . Multi-Color Sticky Flags In Puzzle Shapes . Sticky Flags In 8 Shapes . 100 Flags Per Shape . Eco-Inspired Gift Box. 4 1/4" W x 3 3/4" H
$1.99 - $3.48
What Our Customers Are Saying

"Thank you so much for the beautiful awards. Everyone is complimenting them! We really appreciate your quick turn around as well. Looking forward to working with you again."